Train to Teach with BCTSA
Inspire : Teach : Excel
Train to Teach with Bishop Challoner Training School, an accredited School Centred Initial Teacher Training (SCITT) provider for Birmingham and the West Midlands.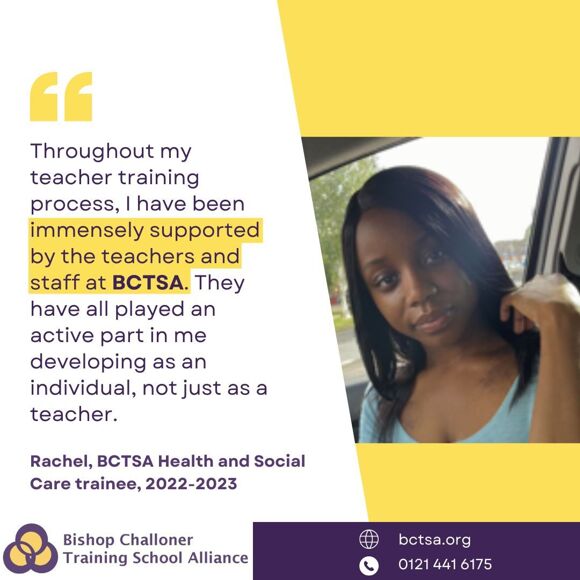 We offer a range of Primary and Secondary programmes: QTS +​ PGCE (full time, 1 year), QTS only (full time, 1 year), QTS only (part time, 2 years), Assessment Only (QTS).
Primary programmes include Primary General (3-7 and 5-11), Primary with Mathematics, Primary with Physical Education and Primary with SEND.
Secondary subjects include: Art & Design, Biology, Business Studies, Chemistry, Computing, Design & Technology, English, Geography, Health & Social Care, History, Mathematics, Modern Languages (French, German, Mandarin, Spanish), Music, Physical Education, Physics, Psychology and Religious Education.
Visit us in school now to see what teaching is like in real classrooms, and discuss your own potential training programme!
BCTSA Train to Teach Enquiry Form
Email us or call us to arrange a one-to-one conversation about YOUR journey into teaching - we are happy to have a chat!
Email: trainingschool@bishopchalloner.bham.sch.uk Phone: 0121 441 6175
Applications for a September 2024 start can be submitted soon...Further details coming soon!
Choose our SCITT route into teacher training:
Our trainees love the experience of being hands on in the classroom from day 1. They feel part of a department and a team, and love the practical nature of the course
Bespoke and flexible experience which can be personalised to your rate of progress, with plenty of individual support provided at all stages from interview to completion of the course
Learn from authentic experts - your tutors will be outstanding classroom practitioners themselves
Great training in research and theory, designed to support you where it matters: in the classroom
Second placements in local schools, and intensive learning weeks on developing key skills, will build your expertise outside your placement school by complementing your core learning
Train to teach with Bishop Challoner Training School:
We believe teaching is the most wonderful job in the world, and we are driven by our commitment to changing the lives of our students by ensuring we grow the best teachers through our teaching training programme.
Our training is characterised by:
High quality training experience informed by the most up to date research – revised and improved every year
A family approach to teacher training
Strong track record of successful programme completion
School placements in schools with a proven track record of successfully mentoring trainees
A commitment to equality, diversity and inclusion is included in everything we do, for students and for our teachers
A variety of schools work with us – whatever your school and phase interest, we have a school for you!
Fantastic pastoral support for trainees throughout the year. We believe in nurturing trainees, with support from expert school mentors and committed mentors in our Training School
Great rates of employment after ITT completion
A long term approach to teacher training. We have Senior Leaders working with us now who started as ITT trainees with Bishop Challoner, and have taken up our development opportunities from ITT-headship training
Come and train to teach with us to Inspire : Teach : Excel.
For advice and guidance about how to apply go to: https://getintoteaching.education.gov.uk